Description
Highlight
Special Features:-
~Multi-Function: Comes With 4 Size Suckers, The Toilet Air Blaster Can Be Used For Toilet, Washbasin, Bathtubs, Shower, Sink, Squatting Pan, Floor Drain, Blocked Pipes And Etc.
~All in One Air Toilet Pump Wih different Accesories Head Provided.
~Suitable For Kitchen Sink Clog, Basin Clog, Toilet Bowl Clog , Bathroom Drainage Clog
~Efficient Cleaning Capability: With High Pressure Air Power, Unlogs Toilet Plunger Set Can Deal With Various ~Blockages Caused By All Sorts Of Rubbish Such As Hair, Cloth, Tea, Leaves, Grease, Oil Dirties And So On.
~Easy To Use With Humanize Handle: The Drain Blaster Uses The Power Of High-Pressure Compressed Air To ~Blast Away The Toughest Clogs In Your Drains In Just Seconds.
~Environmentally Friendly: ABS Gun Body, Natural Rubber Blocked Head, A Natural Rubber That Is Tough And ~Durable For Our Drain Blaster.
~Perfect For Works On Sinks, Tubs And Toilets.
~Safer Than Corrosive Chemicals, With Pressure Release Safety Valve.
~Good Quality Product.
Application:-
~Toilet, Floor Drain, Sink, Sewer, Bathroom And Other Pipeline Dredging.
Specification:-
~Product Type: Pressure Pump Cleaner.
~Material: ABS + Rubber.
~Gap Material: Rubber.
~Color: Blue.
~Weight: 1.88 Ibs.
Description Of All In 1 Air Toilet Pump For Kitchen Sink .Bathroom Clog , Toilets Bowl , Basin Clog
Features:-
~Product Name: Air Drain Blaster.
~Product Type: Pressure Pump Cleaner.
~Material: ABS + Rubber.
~Color: Blue.
~High Pressure Air Drain Pump Plunger.
~Comes With 4 Different Size Rubber Vacuum Suckers.
~Easy To Use.
~Easy Installation.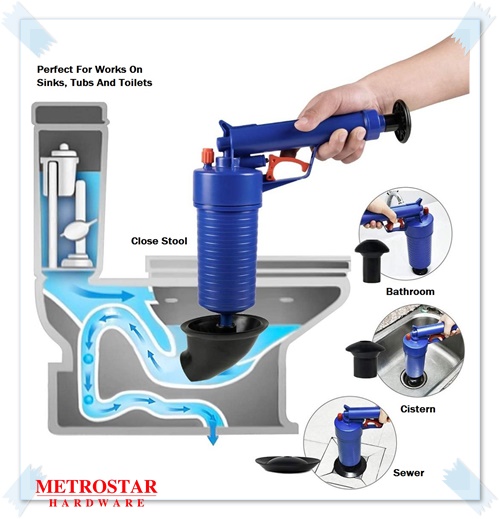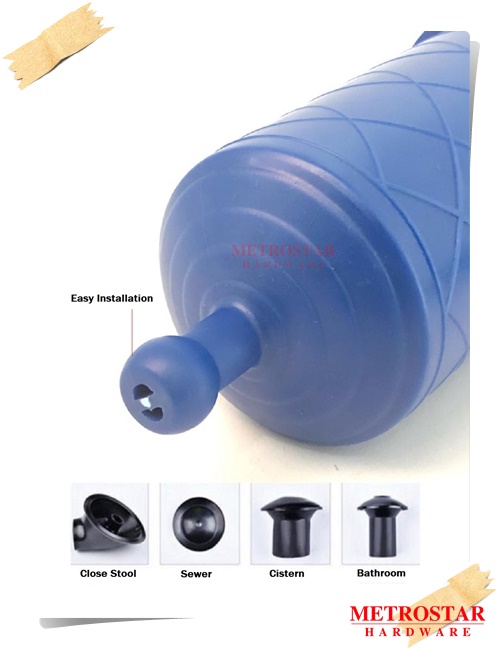 Reviews (0)
view all
back
What's in the box
1x All In 1 Air Toilet Pump For Kitchen Sink .Bathroom Clog , Toilets Bowl , Basin Clog