Price

RM28.00

Product SKU
Heavy Duty Super Clog
Brand
Generic Brands
Size (L x W x H)
8 cm x 8 cm x 18 cm
Availability
In Stock
Shipping Fee
Quantity
Description
Highlight
Is ideal use in basin outlets, toilet, kitchen drain and clogged pipes.
Product details of Heavy Duty Super Clog 900gm
Heavy Duty Super Clog is ideal use in basin outlets, toilet, kitchen drain and clogged pipes.
Method of use:
1) Remove water residue as much as possible from the area which are to be treated.
2) For basin outlets: Use 1 capful
For Toilet & kitchen drains: Use 500ml
3) Pour water within 1 minute. Repeat if necessary.
4) Apply a small quantity at regular intervals in the treated area can avoid future blockages.

Cautions:
1) Keep/Store away from Alkaline Material and combustible material.
2) Use for only outdoors or in well vantilation area.
3) Wear protective gloves/protevtive clothing/eye protection/face protection /wear respiratory protection. Avoid contact with hand, skin & eyes.
4) Do not breathe dust /fume/gas/mist/vapour/spray.
5) Keep out of reach of children.
6) Keep in cool place.
Attention:
-Keep out of children
-Not for drink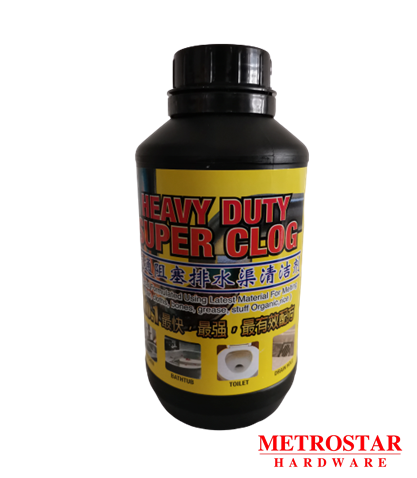 #metrostarhardware #hardwarepenang #readystockhardware #penanghardware #bayanbaru #malaysiashipping #readystockmalaysia #fastshipping #shipfrommalaysia #heavydutysuperlog #cloggedpipes #kitchen #bathtub #toilet #drainhole #bathroom #bathtub #toilet
Visit us at:
https://www.metrostarhardware.com/
https://www.facebook.com/metrostarhardwarepenang/
Reviews (0)
view all
back
What's in the box
1 x Heavy Duty Super Clog 900gm
Super-permeable crystallized waterproofing
QL-Concrete 1 is a super-permeable crystallized waterproofing agent which incorporates nano-scale inorganic silicate for concrete curing, repairing and strengthening. It is a new patented technology product developed by QingLong Company for water seepage control.
QL- Exterior Wall Transparent Waterproof Coating
QL- Exterior Wall Transparent Waterproof Coating is a flexible, transparent and colourless polymer product, which is produced by combining special polymer emulsion, styrene-butadiene rubber polymer modifier, surfactant and plasticizer