Price

RM54.00 - RM78.00

Product SKU
WCR
Brand
CLASCENEX
Size (L x W x H)
164 cm x 4 cm x 5 cm
Availability
In Stock
Shipping Fee
Colour
Quantity
Description
Highlight
Special Features:-
These curtain rod end caps are made of durable material, fit for 28mm diameter curtain rod.

Material: Solid Wood

Curtain rod finial head top is wood too

Elegant and fashionable design

Perfect for home, hospital, hotel, cafe, office, restaurant, school decor.
Product details of Wooden Curtain Rod (4.5ft / 5.5ft / 6.5ft x 28mm)
It is an ideal choice for a tropical and rusic theme for your home.
A curtain isn't a curtain without a curtain rod, and these wooden curtain road
offered by Clascenex are the most elegant of the elegant. Real wood poles and n
numerous choices of wood finials will dress up your living room,
dining room or bedroom like no other individual touch.
Features:-
~Material: Solid Wood
~Brand: Clascenex
~Color: Mahogany, Rose and Teak
~Diameter: 28mm
~Length: 4.5ft (14ring) / 5.5ft (18ring) / 6.5ft(20ring)
~Package include: Curtain poles, Ring, Bracket, End Cap, Screw and Wall plug
Buying Tips
1)Measure your window or door in order to choose the CORRECT SIZE.
2)Choose the length of rod that is ~30cm longer than your window and door. It is suggested to make your curtain looks nicer and can totally cover the light from the window and protect your privacy.
3)Our rod is from 4.5ft (137cm), 5.5ft (168cm) and 6.5ft (198cm)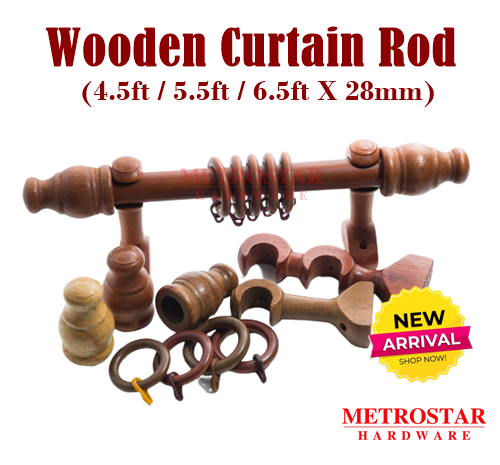 #metrostarhardware #hardwarepenang #readystockhardware #penanghardware #bayanbaru #malaysiashipping #readystockmalaysia #woodencurtainrod #woodencurtainrodreadystock #woodenrodbyclascenex #kayulangsir #kayulangsireadystockpenang #kayulangsirreadystock
Visit us at:
https://www.metrostarhardware.com/
https://www.facebook.com/metrostarhardwarepenang/
Reviews (0)
view all
back
What's in the box
1 x Wooden Curtain Rod (4.5ft / 5.5ft / 6.5ft x 28mm)
Super-permeable crystallized waterproofing
QL-Concrete 1 is a super-permeable crystallized waterproofing agent which incorporates nano-scale inorganic silicate for concrete curing, repairing and strengthening. It is a new patented technology product developed by QingLong Company for water seepage control.
QL- Exterior Wall Transparent Waterproof Coating
QL- Exterior Wall Transparent Waterproof Coating is a flexible, transparent and colourless polymer product, which is produced by combining special polymer emulsion, styrene-butadiene rubber polymer modifier, surfactant and plasticizer